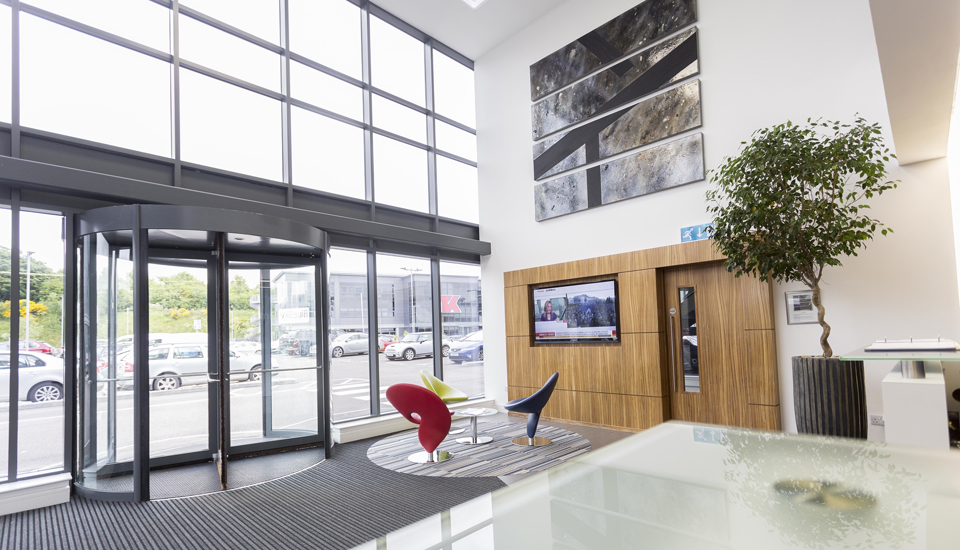 Art Graduate's Prizewinning Commission Takes Pride of Place in New Business Premises
Gray's School of Art graduate, Vivian Ross-Smith (23) from Lerwick, Shetland has had a prizewinning piece of art installed in the new BlueSky Business Space serviced office building, WestPoint House, in Westhill.
Vivian, who graduated with a BA (Hons) in Painting earlier this year, was one of several students to compete for the commission to create original artwork for BlueSky Business Space's reception area.
BlueSky Business Centre Supervisor, Angela Ritchie explained,
"We wanted something striking for our reception area – something which would fill the double height space, catch our visitors' eyes, and capture the essence of Aberdeen's key industries, in which many of our tenants work.
"We also wanted to mark the newness of our building by supporting an artist at the very start of their career. Offering a commission to a local art student was the perfect choice and we are very pleased with the finished piece."
Vivian's piece, entitled 'Plutonic', consists of four individual panels, each 2.44 metres in width. She used layers of resin to combine flat colour, iridescent and metallic paints, crystals, shards of glass, and chips of different rocks to create a look and texture reminiscent of local granite.
Vivian explained,
"I have recently become interested in geology within art, so Aberdeen's history of using granite as a building material, along with North Sea oil and gas explorations, became my inspiration. Due to the many layers of resin and rocks, Plutonic will take on a different look depending on the time of day, the weather and the quality of the light within the BlueSky building.
"Being awarded this commission has been a brilliant experience.  I am very pleased with the outcome and proud to see my work hanging in the new BlueSky Business Space."
Keith Grant, Head of Painting at Gray's added,
"Vivian has created a painting with an amazing jewel like surface that will be accentuated by the changing light conditions throughout the day.  It is an ambitious piece of work and I am sure that those who come into contact with it, either for the first time or as part of their working routine, will get great enjoyment from it."
BlueSky Business Space, a Chess Group plc company, is a leading provider of serviced office space, meeting space and virtual office facilities in Aberdeen City and Shire. In addition to WestPoint House, which opened in March, BlueSky Business Space has premises in Altens and Aberdeen city centre.
James Barrack, Managing Director of Chess Group said,
"We at Chess Group have a focus on helping individuals to build their careers, so I am delighted that we have taken this opportunity to work with a young artist.
"I was very impressed by the quality of the students' submissions and am extremely pleased with the finished piece."
To find out more about Vivian's work, visit vivianrosssmith.co.uk
---
< Back to News & Press