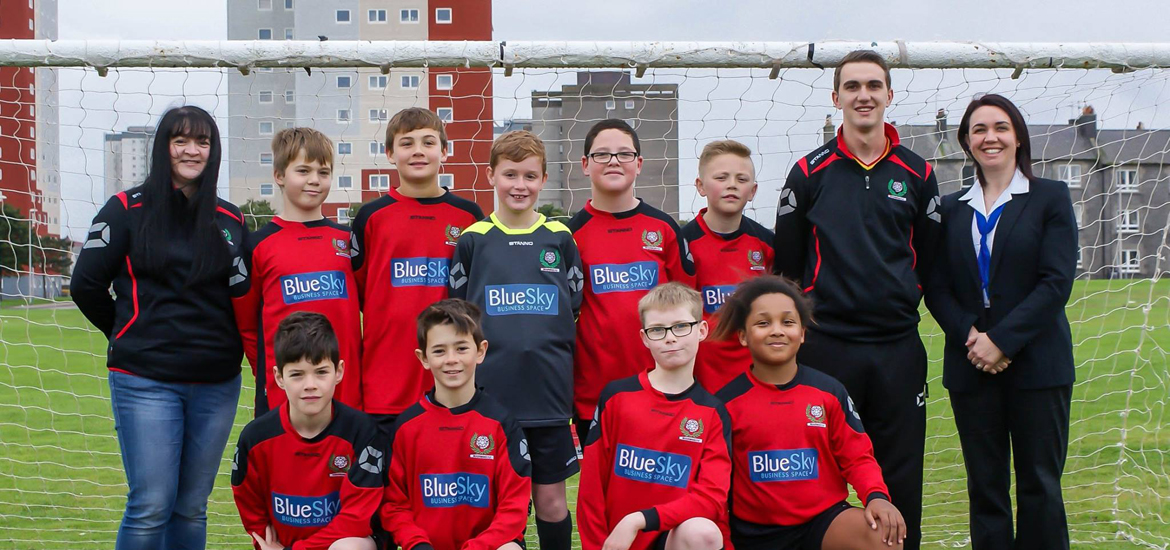 BlueSky Business Space sponsor local football team
Serviced office space provider BlueSky Business Space (a Chess Group Company) have been named as the new sponsor of Mugiemoss FC U12's. The Aberdeen based team plays friendly fixtures at the Aulton pitches every other week as well as away games around Aberdeen & Shire.
Team Manager Linda Collie said, "It's great for the team to be supported by a local business. BlueSky Business Space sponsoring the kits allows for our team to look professional which is a real morale booster.
As well as the great health benefits of regular exercise, the kids are also learning about discipline and commitment from a young age whilst still having fun."
In addition to sponsoring the football kits, BlueSky Business Space staff give back to the community through various voluntary projects. Commercial Director Carl Hodson comments "We must invest in tomorrow today, whether it's through financially supporting a kids club or donating your time to work with the kids directly. In today's technology led world for children it's great to see them running around, enjoying themselves and getting valuable exercise; it should be encouraged and be completely inclusive"
Originally from a third sector background, Carl has developed with his team a strong set of values & encourages staff to participate in voluntary activities as often as possible. This includes staff currently actively involved in Princes Trust, youth mentoring Duke of Edinburgh awards, volunteering for children's charity Befriend a Child, Girls Brigade and regular fundraisers which are held within the BlueSky centres.
BlueSky Business Space operates within the Chess Group, alongside sister companies Aircon Scotland and Eskimo Intelligent Solutions and associate company Knight Property Group.
---
< Back to News & Press