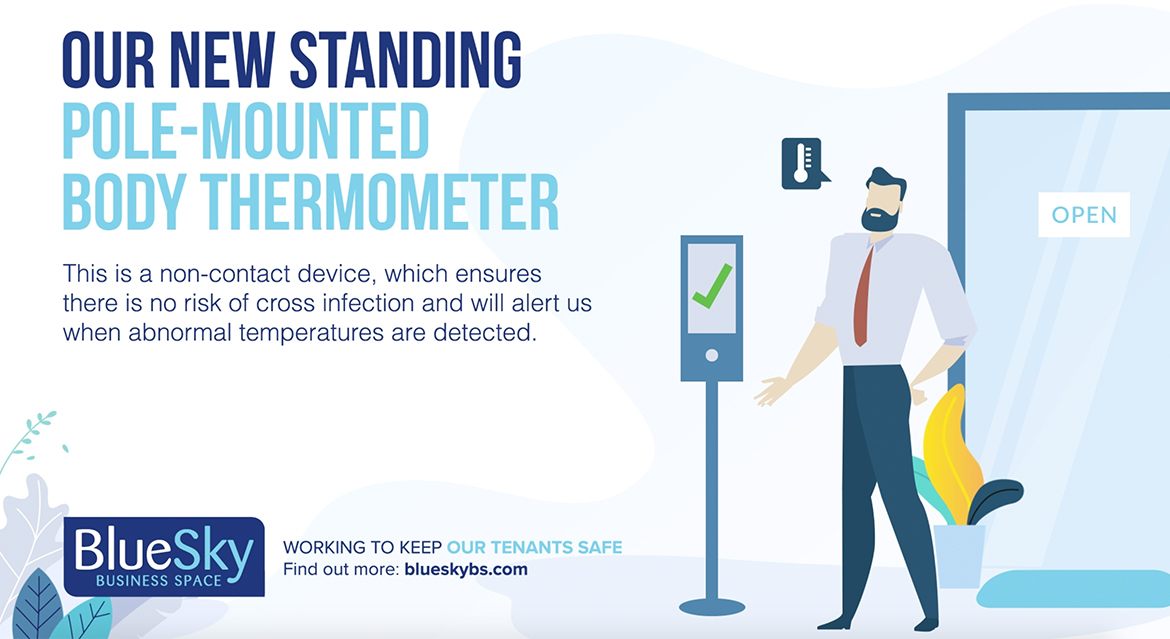 Body Thermometer Information
In order to re-open BlueSky safely and effectively, we have been going the extra mile to ensure our tenants safety in the building and have set out to make a workplace that tenants feel relaxed and safe to enter. 
To ensure that our tenants at BlueSky feel as safe and comfortable as possible, we have acquired a body thermometer for when tenants, guests or visitors enter either of our BlueSky buildings.  
The thermometer takes individuals wrist temperature and requires no contact. This means that there is no risk off cross-infection between tenants which was important to us when we were putting our re-opening the workplace plan together.
The thermometer will alert us when an abnormal temperature recording occurs, so we can deny entry of the building.
Features of the thermometer include:
Non-contact measurement on the wrist
Real time alarm, quick detection of abnormal temperatures
High accuracy measurement
Real-time display of measured temperatures, normal and abnormal temperature counts on LCD screen
We wanted something that would be non-invasive but ensure tenants that they were in a safe environment and we believe through several steps that is what we have achieved.
Slowly but surely, things are beginning to look normal again and it's almost time to welcome some of our tenants back to BlueSky, we look forwarding to seeing them all again soon!
---
< Back to News & Press