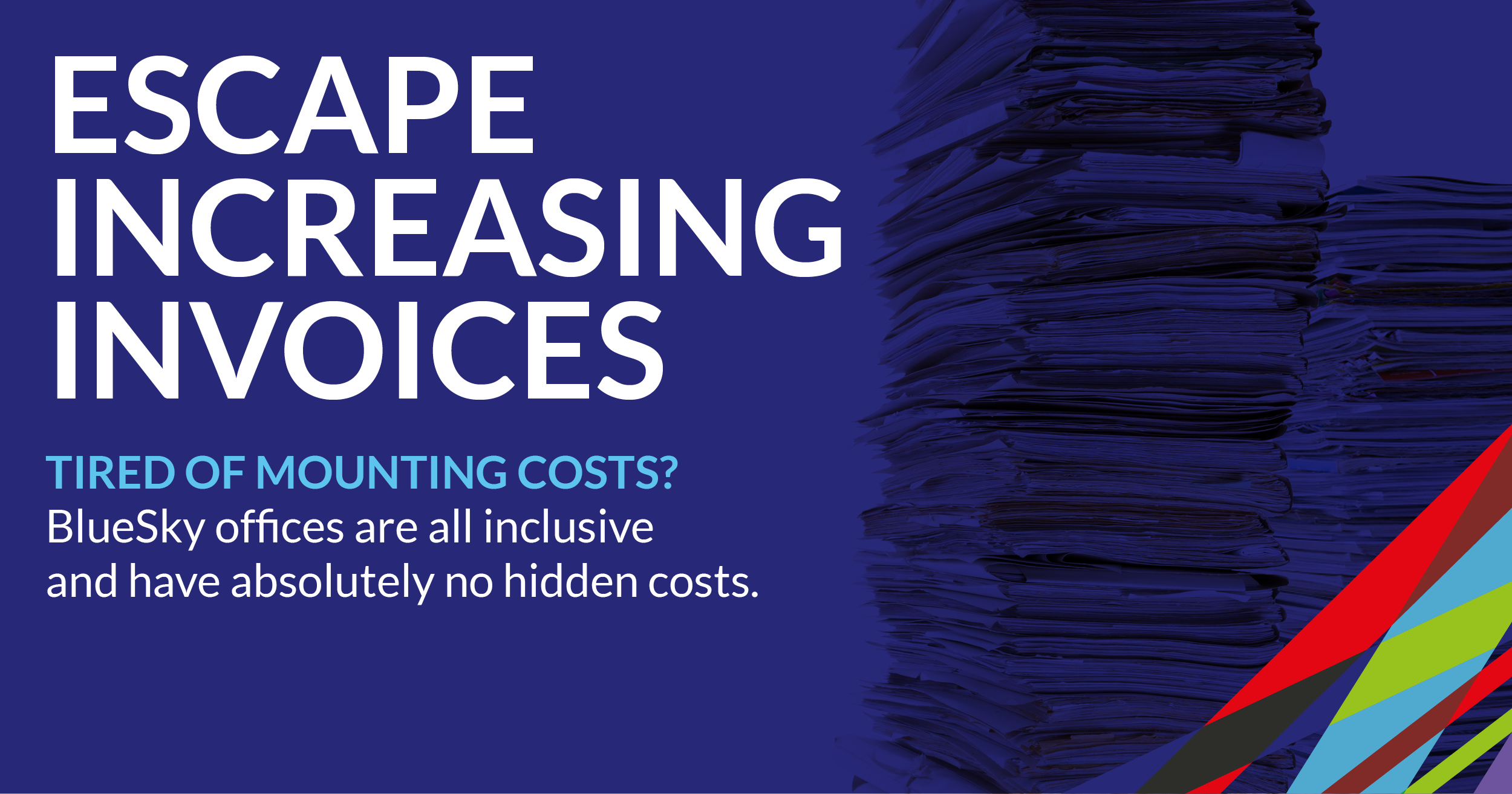 Escape increasing invoices with BlueSky Business Space
Organising office space and sorting out leases can be a daunting and troublesome task.  Serviced offices have this negative reputation where landlords are seen to find loopholes and add in hidden costs. At BlueSky we like to be honest and upfront with our tenants. That's why we provide an all-inclusive cost for our offices, where […]
Organising office space and sorting out leases can be a daunting and troublesome task.  Serviced offices have this negative reputation where landlords are seen to find loopholes and add in hidden costs.
At BlueSky we like to be honest and upfront with our tenants. That's why we provide an all-inclusive cost for our offices, where everything from the power to the insurance is included.
Whether you're using a serviced office or a traditional, office space can be expensive – especially for smaller companies and start-ups.
Imagine
You are moving into a new building and feeling motivated for your company to start its business operations…
Then
You're hit with a bill so high that all your strategies and goals have to be put on hold – it's not exactly motivating on someone's mentality. When you start a new business you throw yourself in at the deep end, and the last thing you need is for your office space to cause unnecessary stress.
At BlueSky we pride ourselves on being all-inclusive!
At BlueSky we pride ourselves on being all-inclusive! So no need to worry about sneaky invoices making their way into your mail.
In today's climate it's important to support businesses and we like to help our tenants thrive and therefore we provide regular free events such as Lunch & Learns which are available only to BlueSky tenants.
The way we see it is, why should you have to pay additional costs for operating your business?
BlueSky offer flexible support, the specially trained reception staff will be there each day to assist the running of your business go smoothly, whether that's organising meeting rooms or handling your calls, all so that you don't have to.
The breakout areas (which are of course included!) are a fantastic way to de-stress with a game of pool, or a comfy place to sit which gets you away from your desk without wandering away from the office.
Relax and concentrate on the running of your business knowing that BlueSky can manage your office at an affordable monthly rate.
---
Want to talk about how we can support your business? Contact us now and we can talk through how we can help at BlueSky!
---
< Back to News & Press