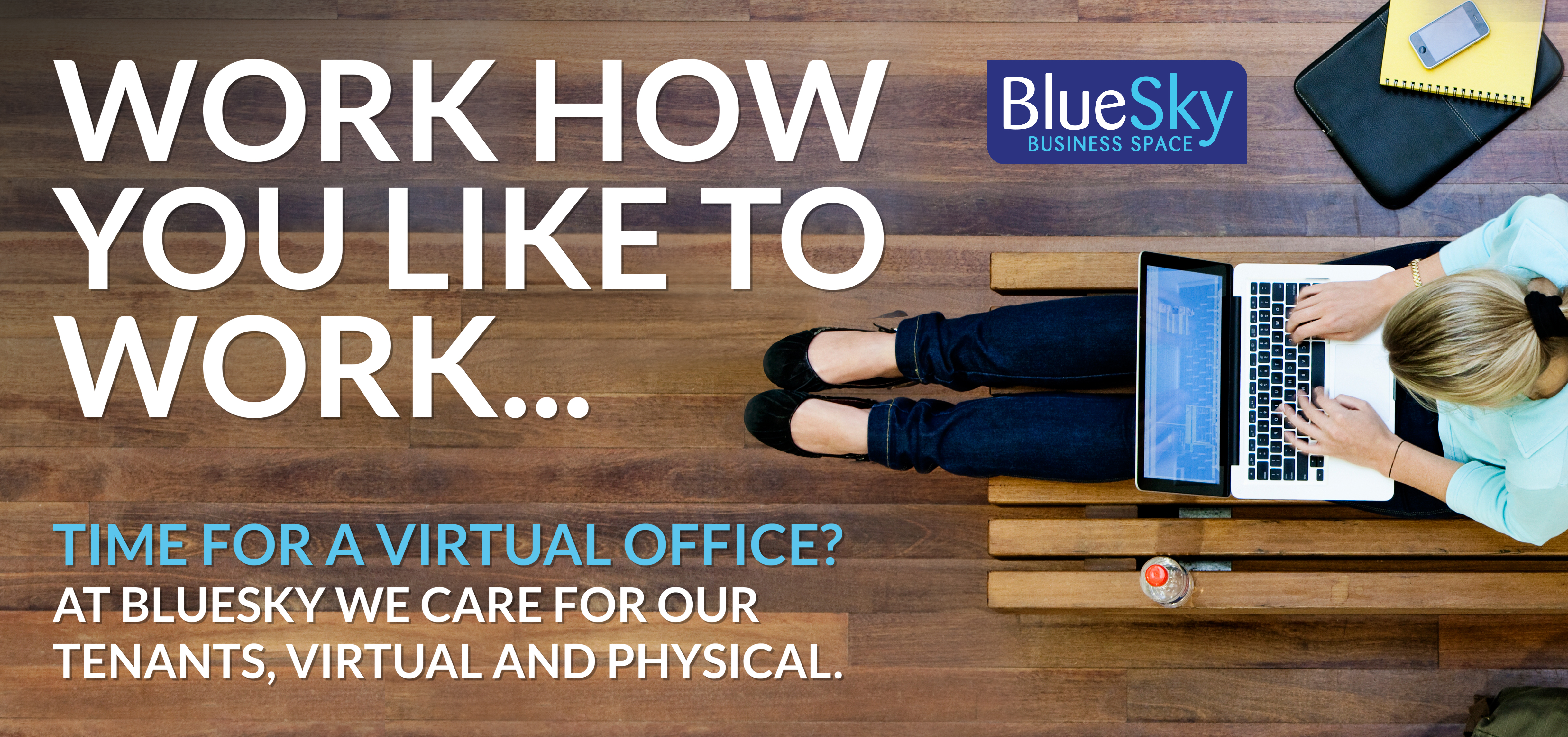 Now that's 21st Flexibility…
Ask yourself the question, how much does it bother you having to head to an office when you don't actually need to?
For decades people have assumed that despite working for themselves that in order to 'work' we must be in an office environment even if it's not best suited to our business and our lives.
Thankfully the 21st century has hit us with a wave of new opportunities ensuring that in the long run, we're more productive.
The answer? A virtual office.
In short, it's not actually a new concept, it's more adhering to the concept that people are still finding new and uneasy. Many individuals don't feel they should be allowed to work from home.
At BlueSky we care for our tenants, virtual and physical. So we've detailed some points to help you realise the benefits.
The Definition.
A virtual office allows you to work from home, but have a business address and contact details so you don't have to mix your personal life with your business – your clients won't know your address or your personal numbers.
All about location
Have you ever wanted that all important postcode but working from home works better for you? Let's not mention it's not always cost effective to work from a highly desired location.
That's exactly why Virtual Offices are so beneficial – you can be based at that address for a fraction of the cost!
Be based amongst your clients in an industry specific location but power through your workload form home.

A Helping Hand
With a virtual office not only is your address registered to a professional address, but so is your contact number. Helpful, on hand receptionists are there to answer your calls as your company name, before forwarding to a number of your choice. You get to decide if you want to take the call or have it message emailed to you.
Flexibility
The flexibility you get with a virtual office is second to none. Your day operates the way you want it to! Gym class at 10.30? Go! Favourite TV programme at 3pm? Watch it. As long as you know how to manage your own workload – your day is yours to arrange. Virtual offices provide the up most freedom.
Meeting areas covered
You're probably thinking…'I can't invite clients to my house?' Well, you can if you want…But you definitely don't have to. Take them to your registered business address. Simply book meeting rooms through the website and when you head in, the receptionists will greet your clients as though they work specifically for you.
In the 21st century, a virtual office is a strong solution for those who don't work together from one location, for those who own their own company, or are spread out geographically from one other – this type of tenancy allows optimum flexibility and productivity.
And how could we forget…there's absolutely NO commute time…
Read more about BlueSky virtual offices here: blueskybs.com/virtual-offices/
---
< Back to News & Press