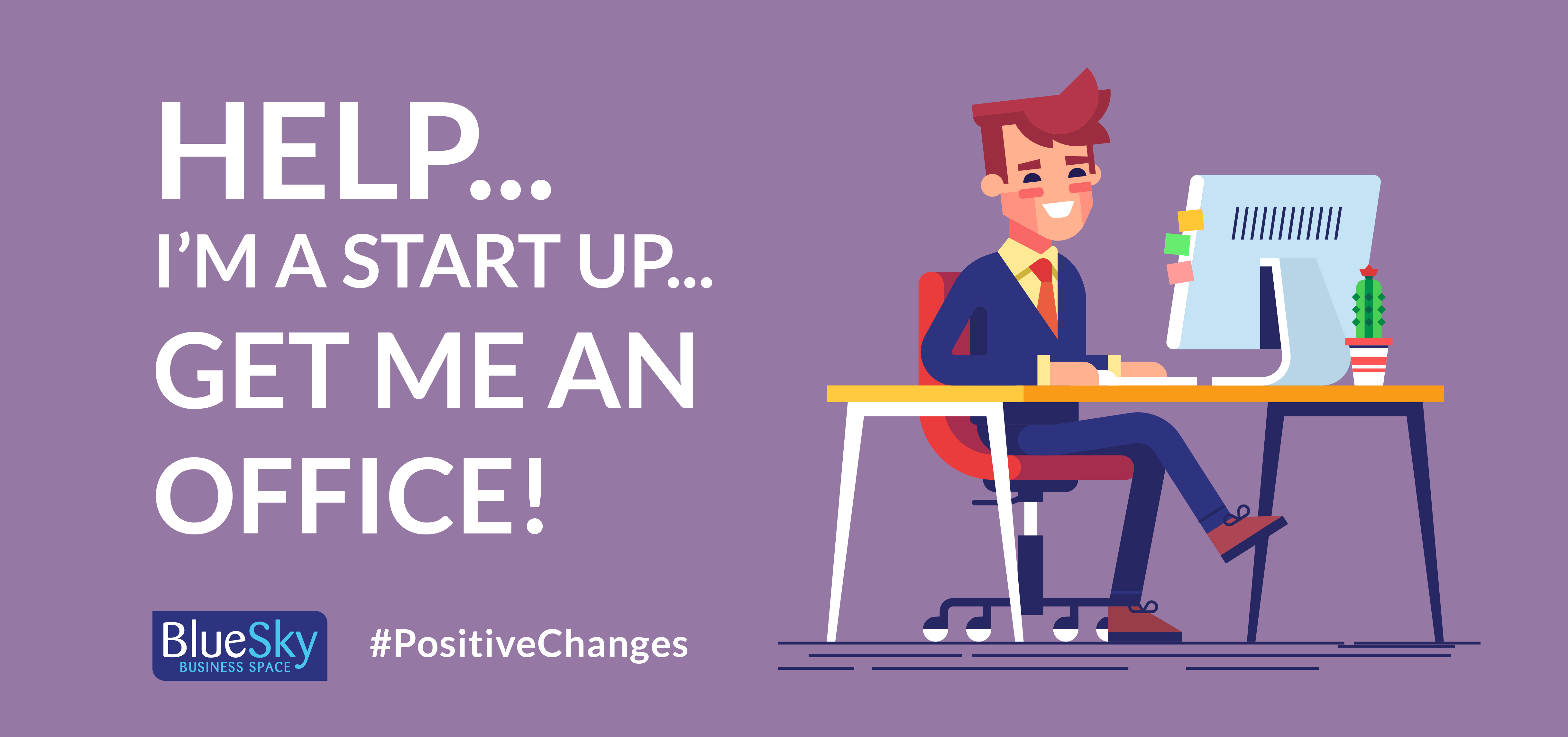 HELP….I'm a Start Up…GET ME AN OFFICE!
The North East downturn has resulted in many #positivechanges (surprisingly!) with us now seeing a drastic increase in start-ups, many of which claim they could never have done so if they hadn't been made redundant. In fact it's given many people the opportunity to do something they love.
With it though, comes many questions.
At BlueSky we like to relate to you all, we think it's the best way to help you succeed. So let's talk through some FAQ's to some important problems many start-ups face.
The BACKGROUND…
You're maybe used to working for a large company, but was made redundant due to the Oil and Gas downturn. However you saw the bright side and instead started your own company which you love. Things are going well and 6 months in you're looking to take that next step…
Which takes us to your GOALS
We love goals, it gives us something to aim for! A Start-ups goals may vary but some of the key ones are to develop that professional brand reputation and have a space to meet your clients. You know you have the skills to build that important client base and so do we – but it needs to show to others and no one wants to meet clients in their living room!
But you're facing some CHALLENGES…
Hey – committing to a long lease is a big risk for a new company, especially when you're not in the office 100% of the time because you also have to focus business development. Plus, when you are in the office it may feel lonely and let's not forget to mention the STRESS and HASSLE of sourcing and organising your office space in addition to focussing on your business!
Well… that's why we're here to help – so what can we do?
First things first, FORGET about the long lease, at BlueSky we offer flexible lease terms to minimise any risk and make you feel secure. Heard of Plug in and Play? It's as simple as it sounds. There's no need to worry about all that office set up because we do it for you. All that you need is your laptop.
Serviced offices allow you to interact with likeminded individuals from different companies and backgrounds which not only help with your professional development, but your social interaction too. It keeps you engaged, and its essentially constant NETWORKING.
We know it sounds almost too good to be true….its normal for you to have common objections.
You're a successful person, your business is doing great, therefore you may need to expand so how do you manage that once you're in a lease? We pride ourselves on being flexible and its something we truly mean when we say – WE WILL MOVE WALLS FOR YOU. We can build the rooms to the size you need.
At Bluesky we work with our customers to provide a space that works for your company. With meeting rooms, hot desking facilities and short term leases available on our standard & co-working offices – we have an option to suit your business requirements.
Intrigued? Come by for coffee and a tour! We love seeing new faces.
---
< Back to News & Press